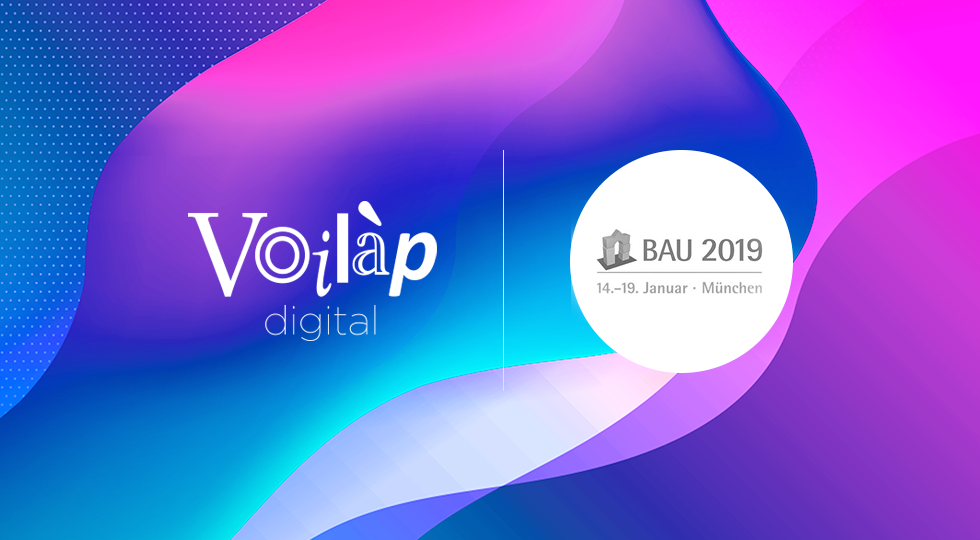 14/01/2019
Bau 2019
At BAU 2019 Voilàp Digital will present the latest technological innovation for the sale and digital configuration of products in the world of doors and windows.
Last year at Fensterbau 2018, Voilàp Digital presented the first version of Sight, the new digital display that allows you to configure, choose and present every aesthetic aspect of a real-size product, permitting the end user to pre-live the product before the purchase.
After the success in Nuremberg, Voilàp Digital chose BAU 2019 in Munich as a stage for the preview of Sight 2.
Today it is even more powerful.
Sight 2 has a completely new structure and has the ability to provide more performing services.
Compared to the previous version, the 4K displays have been further improved, in fact they are doted with anti-glare and ultra-thin screens, capable of delivering even more brightness to the images and are able to adapt to any lighting conditions, permitting to significantly reduce energy consumption.
You have never seen digital images displayed like this before!
Not only the display but the entire structure of Sight 2 is much lighter and therefore easily transportable at exhibitions, events.
These technical characteristics have obviously influenced the design of the product, which is now much more minimal and elegant: clean lines and thin edges makes it adaptable to any showroom style.
Hosting physical samples usually require large display areas, thanks to Sight 2 the square footage required for the exposure of products can greatly be reduced.
Upgrades do not stop at the hardware. The browsing experience has been implemented with cutting-edge features such as the interaction between physical and digital sample or the kiosk mode, which allows you to automatically scroll through different combinations of products directly from your catalogue.
The updated version of the View platform will also be presented in Munich, with a completely revisited graphic layout, more intuitive with new functions.
By the implementation of Augmented Reality, which permits you to measure the size of the window frames, import them directly into the application and display them on the new full-screen configurator, offers the end user an immersive and exciting experience.
It is incredible what VIEW can now do with Sight 2: At BAU 2019 will be an opportunity to see and experience all this.
Voilàp Digital awaits you in Munich from January 14 to 19 at HALL C1 booth 502 and booth 309, don't miss it!
---