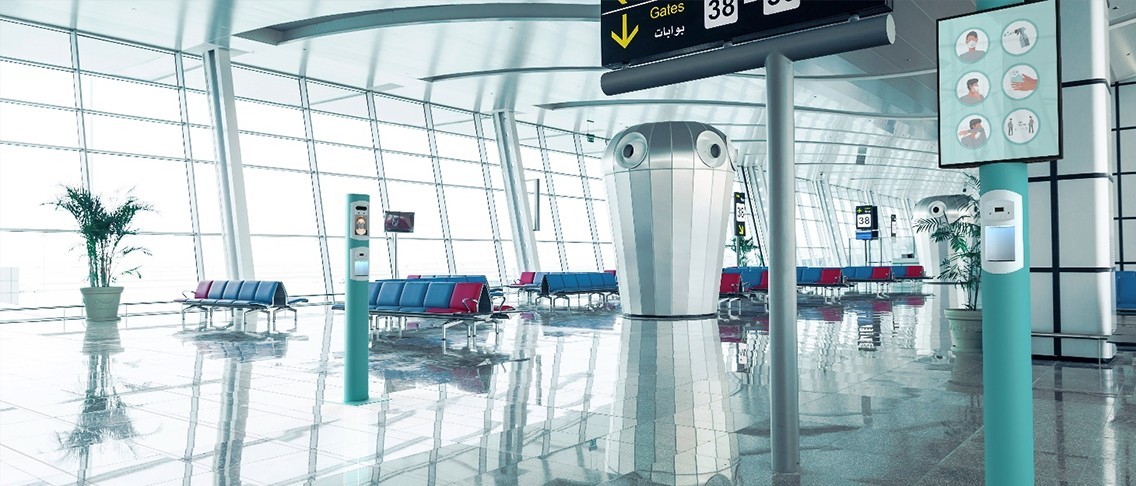 15/04/2021
The new normality in public places
The COVID-19 pandemic has shown us that no sector can consider itself exempt from systemic crises. National and EU measures have imposed heavy constraints on the economy, which has obviously suffered on a global scale.
To survive, organisations must therefore adapt to changes in the new consumer environment. Social distancing is a constant for all activities, new ways of communicating and serving the public must also be applied. Digital signage, supported by the latest technology, can enable businesses to continue to engage and inform customers while safely keeping their distance.
The pandemic has also acted as a driver for change in the innovation and implementation of new health protection solutions in public places.
Since the start of the crisis, public and private service customers have demanded new safety measures for Infection Prevention and Control (IPC):
Access control:surveillance services have traditionally been part of the practices of many institutions, even before the pandemic broke out, but demand has increased in critical public health locations such as hospitals, testing centres and nursing homes, usually in combination with the services listed below.
Capacity control

:

many premises, such as retail and office buildings, have to comply with a maximum number of visitors and staff, which is controlled, in some cases, by flow management equipment.
Physical separation, disinfection and control of mask use

:

IPC measures must be respected in many places, including the retail, transport and tourism sectors. Technology can certainly help in this regard, with some companies even testing the use of UVC light for space disinfection.
Temperature control

:

detection of temperature levels by trained personnel or through technological tools is an extension of access control in various locations such as airports, factories, banks, offices and hospitals. It can complement other measures for the protection of public health and safety to contain the spread of COVID-19, and must take place under clear conditions with respect to the legal competences of the security officer and in compliance with data protection law.The European Data Protection Supervisor (EDPS) has published a very useful guide on the implementation of body temperature checks.
Find out how to manage some of these aspects with CLEANIUM, the sanitation column with thermal scanners from Voilàp digital